HSSC CET JE Civil Online Coaching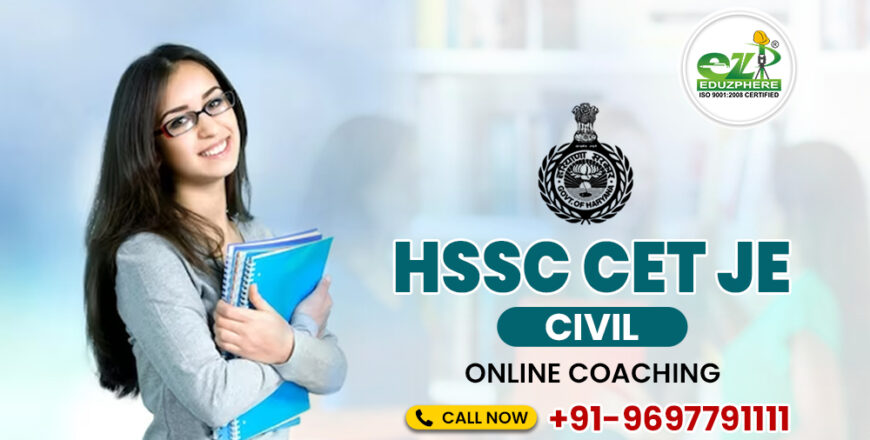 Welcome to the HSSC CET JE Civil Online Coaching course, designed to help you excel in the Haryana Staff Selection Commission (HSSC) Common Eligibility Test (CET) for Junior Engineer (Civil) position! Whether you're a working professional or a student aspiring to enter the engineering field, this comprehensive online coaching program is tailored to provide you with Technical + Non-Technical Subjects with the necessary knowledge, skills, and strategies to crack the exam.
Course Overview:
This course has been thoughtfully developed by experienced Faculties and subject matter experts with a deep understanding of the HSSC CET JE Civil exam syllabus. Through a combination of interactive video lectures, practice quizzes, assignments, and mock tests, we aim to equip you with the confidence and competence required to tackle the exam's various sections successfully.
Key Features:
Comprehensive Syllabus Coverage: Our course covers all the essential topics outlined in the HSSC CET JE Civil exam syllabus. From structural engineering and geotechnical engineering to environmental engineering and construction management, we leave no stone unturned in ensuring you have a strong foundation in all relevant areas.
Engaging Video Lectures: Access engaging video lectures that simplify complex concepts and make learning enjoyable. Our experienced instructors will guide you through each topic, using real-life examples and visual aids to enhance your understanding and retention of the material.
Practice Quizzes and Assignments: Reinforce your learning and gauge your progress through carefully crafted practice quizzes and assignments. These exercises are designed to help you identify areas of strength and areas that require further improvement, allowing you to focus your efforts strategically.
Mock Tests: Measure your exam readiness by attempting our full-length mock tests, which simulate the actual HSSC CET JE Civil exam. By practicing under timed conditions, you will familiarize yourself with the exam format, build your speed and accuracy, and alleviate any test anxiety.
Personalized Support: Our team of mentors is committed to your success. Seek guidance and clarification on course-related queries through our discussion forums and messaging platform. Our mentors will provide personalized feedback and suggestions to address your specific needs and challenges.
Flexible Learning: We understand that everyone has unique schedules and commitments. With our online coaching program, you can access course materials at your convenience. Study at your own pace, revisit lectures, and review topics as needed, ensuring a flexible and personalized learning experience.
Updated Content: We continuously update our course content to align with the latest exam patterns and syllabus changes. Rest assured that you will have access to the most relevant and up-to-date information throughout your preparation journey.
Join us now and embark on a transformative learning experience that will elevate your chances of success in the HSSC CET JE Civil examination. Acquire the knowledge, skills, and confidence to excel in your pursuit of a career as a Junior Engineer (Civil) in Haryana. Enroll today and unlock your full potential!
HSSC JE Exam Pattern 2023
The exam will be organized through offline mode using an OMR sheet.
There are 5 options will be given for each questions. Out of 5 alternatives, one will be the correct answer.
A total of 100 questions will be asked.
Each question will carry 0.975 marks for the correct answer.
A time duration of 105 minutes will be provided to solve the question paper. The candidates will get extra 5 minutes for an unknown answer.
There is a deduction of 0.975 marks for each un-attempted questions.
No negative marking for wrong answers.
| | | |
| --- | --- | --- |
| Subject/Section | Marks/Weightage | Duration |
| Written Examination | 97.5% | 105 Minutes |
| Socio-Economic Criteria and Experience | 2.5% | |
HSSC CET JE Civil Online Coaching